November 10 - 20 2022 | Plaguelands Campaign
Where once blighted earth stretched across nations, new enriched lands await the hands of farmers, ranchers, and good folk. Fields of plenty dotted with bright flowers and meadows of green grass fill the landscape where dying, hollowed woods once stood like jagged teeth against the hazed sky. Come and enjoy bright birdsong and the humming of bees, gleaming days and peaceful nights. The rebuilding has begun! The Westweald of Lordaeron calls to the homesteaders seeking homes in rejuvenated, black earth!
These papers litter the streets of cities and villages, but the newfound hope has tarnished. Or perhaps the dream was never real. Where white towers stood as beacons of hope, a haze hangs over their pallid stone. Where putrid earth was reclaimed, the mushrooms and rot twist the landscape.
Where the dead were entombed, they may yet rise again...
Warcraft Conquest presents Lichfall, a narrative and D20 campaign set to run between November 10th - 20th in the Plaguelands. This story continues our journey to battle the remaining scourge and their ominous leaders seeking a final kingdom of death to rule. Players from Moon Guard, Wyrmrest Accord, and US servers are welcome!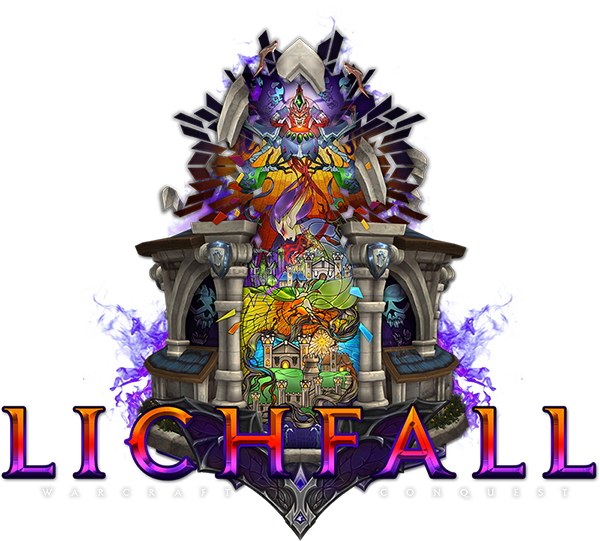 Open to All
IC campaign across all US servers and factions: Alliance, Horde, and Neutral-aligned. Based on Moon Guard - US. We welcome new DMS and players!

Connect in Discord
Schedules, plans, discussions, narration updates, RP prompts, and more are tracked in the Warcraft Conquest Discord and Twitter.

Plaguelands
Events take place across the Plaguelands and proxies, using Hearthglen for a shared camp.

D20 & RP Events
We use the simplified Conquest D20 system for PVE/PVP encounters. Additional mechanics and campaign loot available per DM.

Vehicle Battles
We use the Conquest Warmachine system for vehicle battles in Discord, including naval, land, and air.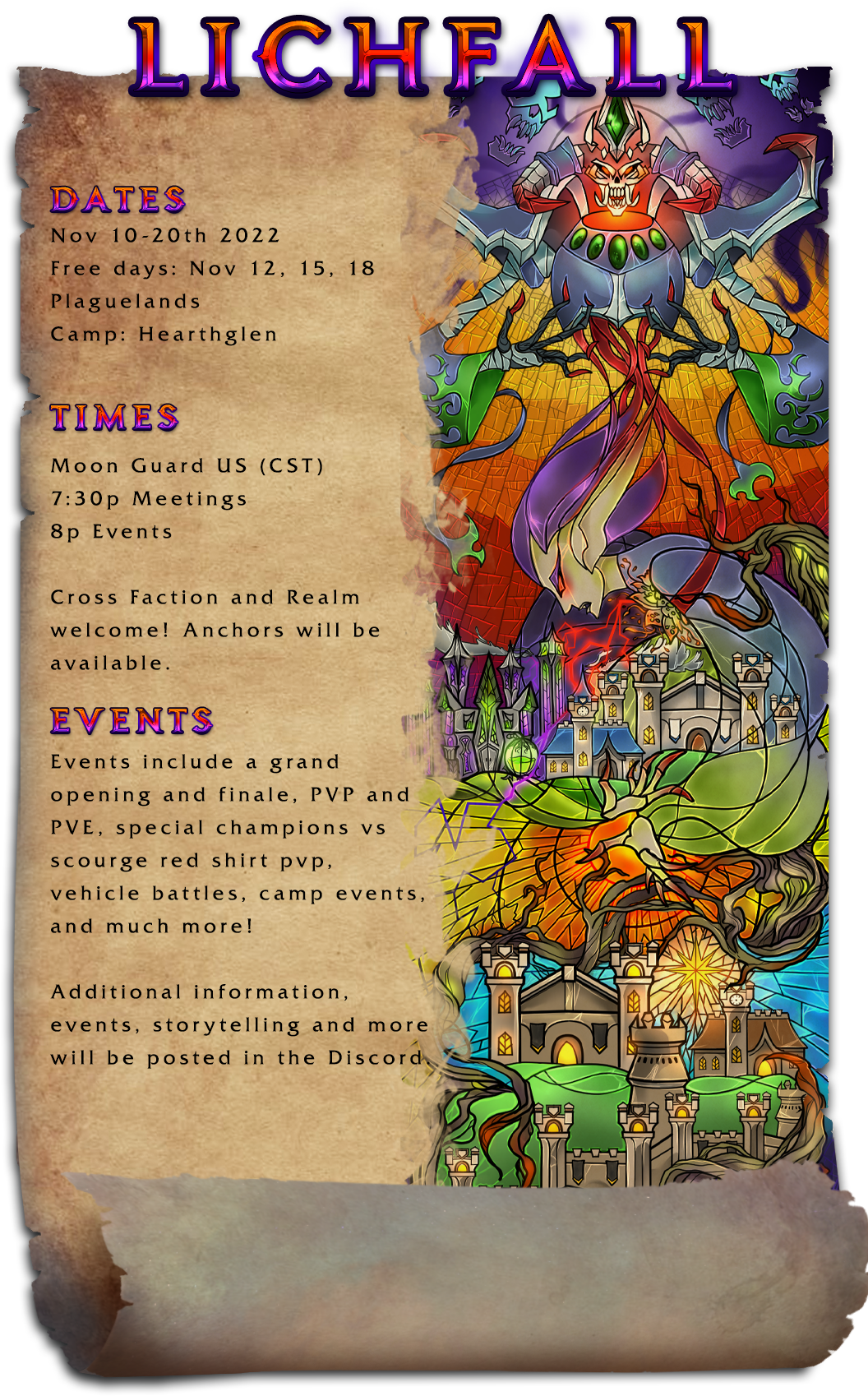 Campaign Camp
We share a camp for all factions in Lichfall, set in Hearthglen.
Campaign Events Preview
Get a sneak peek into campaign events including stories, PVE, PVP, and vehicle battles. Additional events will be added over time. Coming Soon!